So here we are on the first day of the final month of the year!
2018 is slowly coming to an end, and as always, this last month is going to be super busy. And by that I mean super busy outside of VN development. It's always been that way, at least for me, and this year is no exception. As a matter of fact, it's going to be an even busier one, so I'm not sure how much I will actually be able to accomplish for GENBA no Kizuna.
So what exactly are our plans then for this month? Well…
As mentioned in last week's blog post, we want to release the second part of our extended demo on Patreon. That will definitely be our number one priority. I've been focusing a lot on that over this past week, taking care of the final assets and proofreading/revising the script, so that Natsu can take care of the coding. I can't tell when exactly, but we will release it within the first two weeks of this month, so keep an eye on our Patreon page if you're interested in becoming a beta-tester!
(Of course, you can check out the first part of the extended demo right now!)
The third and final part will definitely take a while longer though, so you will have to wait until next year before you can check it out. It still requires a bunch of assets, but I guess I won't be able to make much progress on those throughout this month. I will try to get as much done as possible, but I will focus on proofreading/revising the final part of the script first this time around, so that, by the end of the month, at least that's going to be done.
After all, it still needs to be checked by our proofreader Ariette before the public release. And since proofreading and editing can take a very long time (as I've realized myself through personal experience with Pitch Black Serenade this year), I'd like to give her the script as soon as possible, so that I can then focus on the assets in the meantime.
So, what else is there to do? Well, for one, there is our annual Christmas artwork, which I've already started working on, and then, of course, the New Year's artwork and retrospect to start off 2019. There will also be some seasonally fitting Patreon content for SHINRAI, but I guess I don't want to say too much about that just yet.
Now, before we come to a close, let's properly get the Christmas season started with our newest monthly artwork, once again drawn by Natsu! This time, our patrons wanted to see Rie making a snowman and, well… here is the result: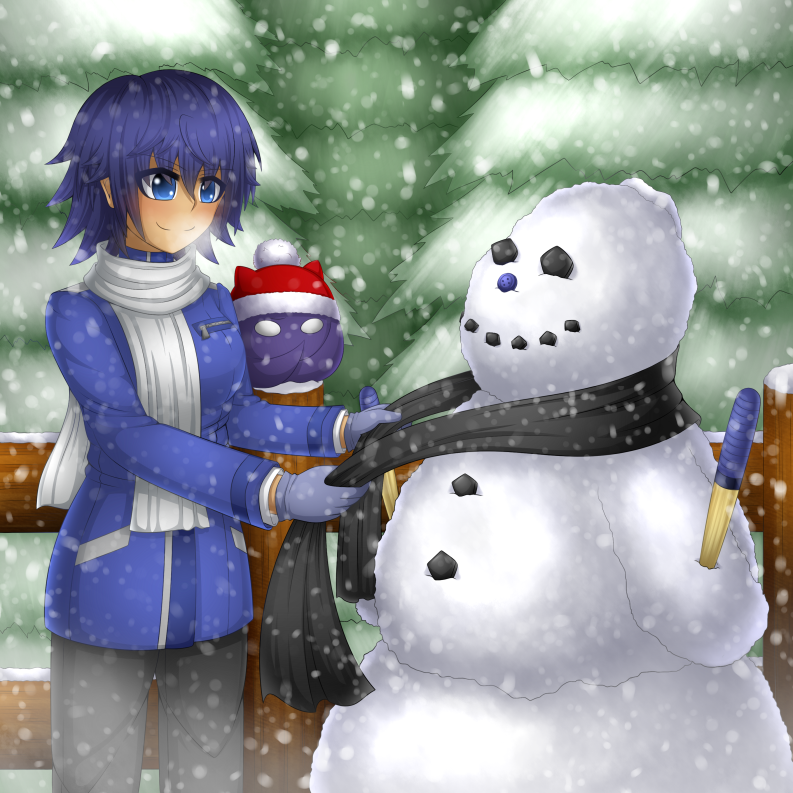 (Once again, patrons can download a higher resolution version over here.)
Here's hoping we'll get just as much snowfall on Christmas this year!
As always, please enjoy the rest of your weekend and, until next Saturday, take care! :3