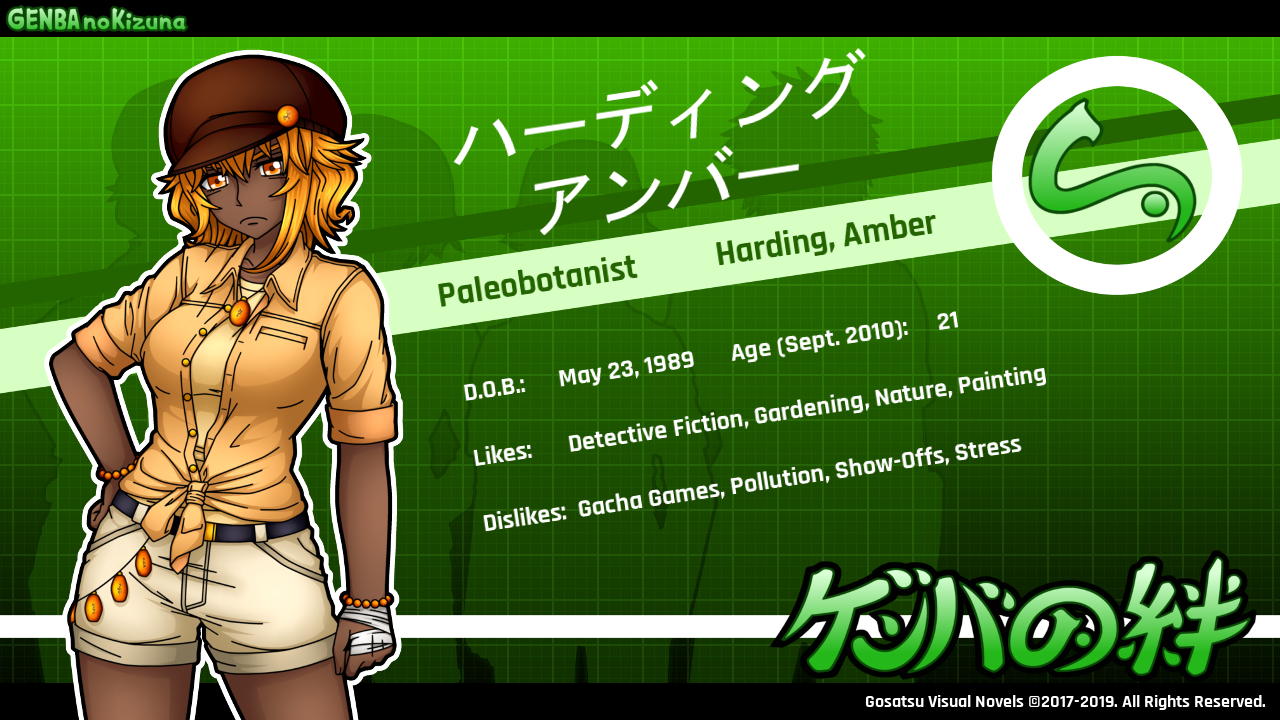 Last week, you could get a look at Ryuunosuke Hazama, the leader of the "Raptor Pack". This time, I present to you another one of the four suspects in GENBA no Kizuna's murder case: the prehistoric plant expert Amber Harding!
If you want to learn a little bit more about her (like the ideas behind her name and design), you can click here to check out a publicly available posting on Patreon, or here for a blog post from last year, in which she was first unveiled as the Warrior Princess Mayana!
Just like with Ryuu, there isn't really much else I'd like to say about her for now. Rather, I wish for players to get closer to her in the actual game! So with that said, let's move on to what else is new…
This past week, I've mostly spent my time with Himatsu as I worked on a number of sprite variations for her, which will be needed for our extended demo release. If you're a patron, you can now get an early look at them right here. For the most part, all her sprite variations are done and ready for coloring. I will still wait for another week or so, however, before I send anything over to Natsu. I want to be sure that there isn't anything else that needs to be fixed, after all.
So, what am I going to do in the meantime? Well, the next scene in our demo features both Himatsu and Terano along with his pet vulture Alexis. So I'm gonna continue in chronological order and take care of their sprite variations next! These will be… pretty interesting, and probably the most difficult ones to draw. So I hope things will go as smoothly as they did with Himatsu!
Anyway, that's it for today, so please enjoy the rest of your weekend and, until next Saturday, take care! :3