Alright, let's jump right into another, very quick progress update! What have I been up to during this past week? Well, first of all, I continued working on the script here and there, whenever I found a moment to spare, planning and writing Keiichi's commentary for the first real investigation segment in GENBA no Kizuna.
My main focus was lying on this year's Halloween artwork, however, which patrons can now get a first look at right here. It features our grumpy little protagonist Raiko, dressing up as none other than Heather Mason, the protagonist of Silent Hill 3 (whose design actually inspired Raiko's winter outfit). I'm planning to finish this within the next two days, before finally focusing more on writing again. After all, I still want to finish the chapter I revisions for GENBA by the end of October.
Sadly, that's really all I was able to get around to in terms of VN development, because this past week has once again been rather eventful for me. If you're following my private Twitter account, you might have already seen, but… I kinda got married O__O;
So yeah, that's what's been keeping me so busy during the past few weeks and months and which I somewhat promised to shed some light on in last week's blog post. I don't want to get into too much detail about all of this, but needless to say, I'm a much happier Gospel now. After all, I got married to none other than the absolutely amazing, extremely talented and super inspiring artist/creator of the romance/mystery visual novel Pitch Black Serenade… Kuna-sama!
In celebration of this, Natsu drew us a little gift which I simply need to share here: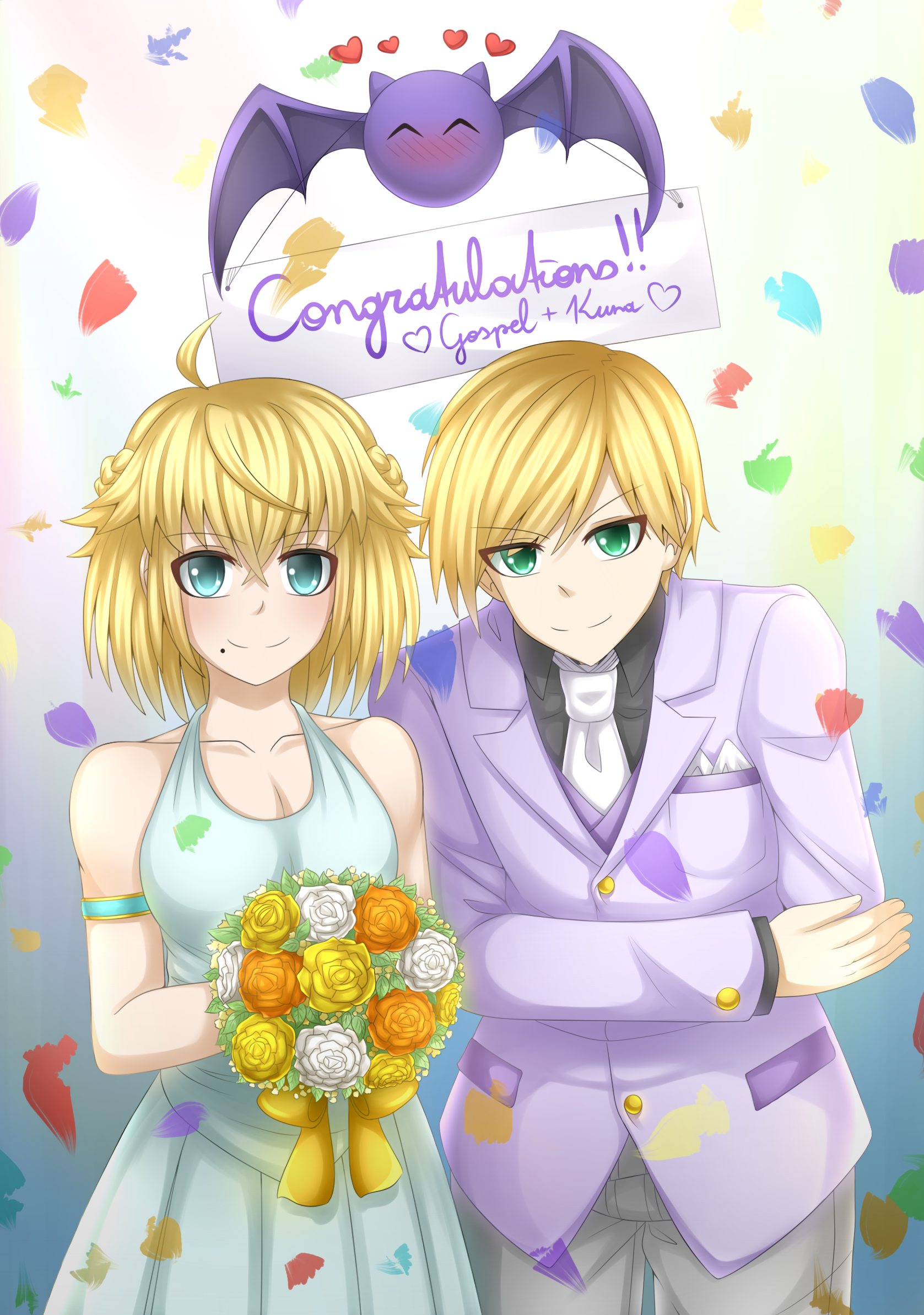 Just look at that super pretty Raiko, accompanied by the handsome devil Kairi, protagonist of Pitch Black Serenade!
I wonder what Kamen would say if she saw this… w
Anyway, outside of all the wedding preparations and moving together, we also had to deal with some unforeseen emergency renovations, which lasted for nearly two months, so… as you can imagine, it's been a very busy and somewhat stressful time. Thankfully, things have finally settled down though, and I'm really happy and excited thinking about the future!
As mentioned before some time ago, Kuna and I eventually plan to work on VN projects together and I seriously cannot wait to get around to that! But for now, GENBA needs to be finished first, of course. So now that I'm going to have a lot less worries on my mind and more time on my hands, I hope to make a lot more progress during the next few weeks. There are certain milestones I want to reach before the end of the year. I've talked about them before, but will go over them again next Saturday, to give you an updated overview. So until then…
Please enjoy the rest of your weekend and take care! :3