Okay, so first of all, in case you haven't noticed, Steam's annual summer sale has begun! If you've been waiting for a chance to play our murder mystery SHINRAI, or for a friend to finally give it a try, now's your chance to strike, as the game is currently 50% off! You can learn more about the details in our summer sale posting.
I'd also like to use the opportunity to thank everyone who decided to buy the game and give it a try, as well as to those retweeting and recommending it to their followers and friends! Spreading the word like this really helps us a lot, so it's greatly appreciated!
Also, on the topic of summer, you might have already seen her on Twitter, but our beachwear Nobara has been finished and added to our gallery! As always, patrons can download a hi-res version over here.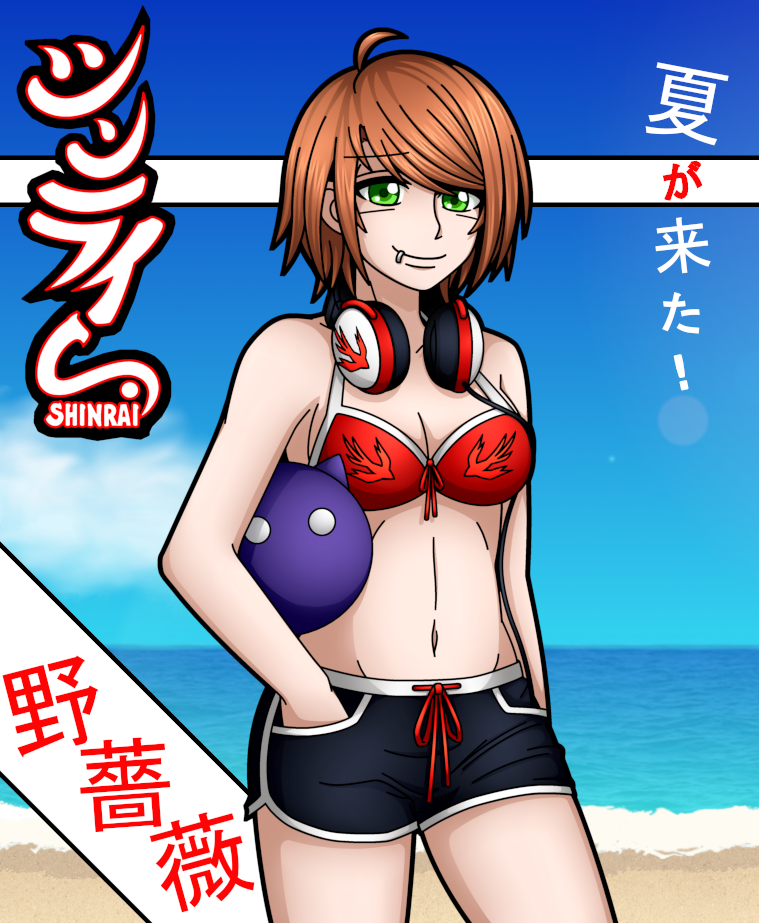 Now, with all that out of the way, let's talk a little about our newest project, GENBA no Kizuna!
We've been hard at work on the extended demo this past week and made quite a lot of progress. Unfortunately, it wasn't enough to get it finished before the end of Jurassic June. The demo is nearing completion, however, so patrons can look forward to helping us with some beta-testing in early July! The public release will then follow in August, as I've decided to have it coincide with SHINRAI's anniversary after all.
It sure took a while to get to this point, but you can expect quite a bit more content compared to our previous, rather short demo, which mainly served as a quick preview. The extended demo will introduce the remaining members of your investigation team (Shinketsu, Rei and Himatsu), the four suspect characters (Ryuunosuke, Shiku, Amber and Terano), and it will provide some general information about the case you will have to deal with. Most importantly… the victim's bizarre cause of death!
There are also going to be a whole bunch of new DPA entries with a lot of additional information. All in all, the extended demo will most likely amount to approximately 28,000 words, which is four times the size of our initial demo (and only 2,000 words less than the entire first chapter of SHINRAI)!
I really hope this will give a good first impression of what GENBA is going to be like and I certainly cannot wait to finally share this demo and (hopefully) receive some useful feedback and impressions!
But until then, there is still some work to be done, so I guess I should wrap this up and get back to that. I want to provide our patrons with a playable version of the full demo ASAP, after all! So please enjoy the rest of your weekend and, until next Saturday, take care! :3