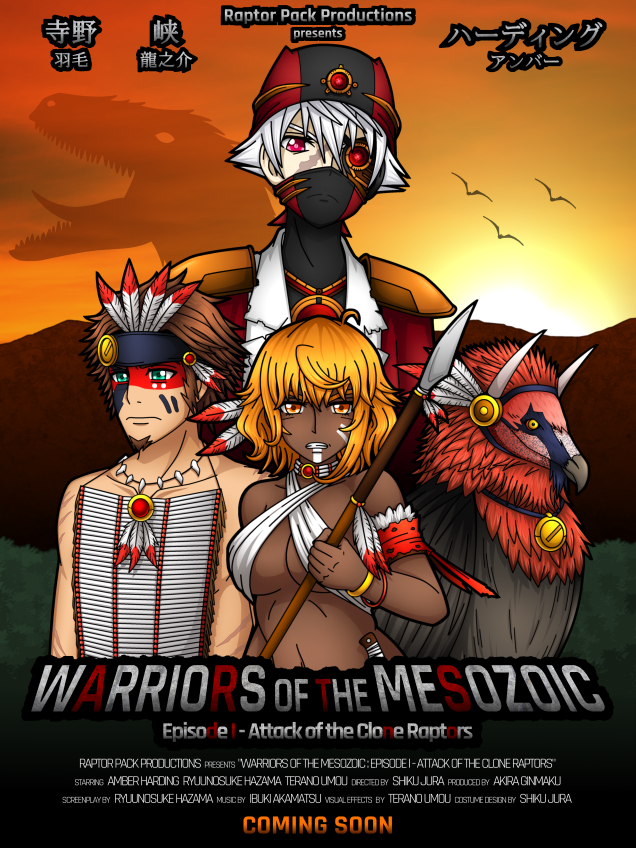 Warriors Of The Mesozoic tells the story of the beautiful Warrior Princess Mayana, whose task it is to hunt down and stop the evil ambitions of Dr. Wu. Together with Korut, a member of the Galyan tribe, as well as his loyal pet vulture Red, Mayana must not only face off against Wu, but also his army of cloned raptors. Will she be able to bring peace back to the Forgotten Land…?
Similar to Twin Sister Sacrifice in SHINRAI, Warriors Of The Mesozoic is a fictional story within our next murder mystery visual novel GENBA no Kizuna. It's a movie made by Raptor Pack Productions as you can see from the poster above. And the characters depicted on it are none other than some of the group's members who also happen to be… the suspects in GENBA's murder case.
Along with the Jurassic June artwork, we have now publicly shown all four of them. I don't really want to get into any details just yet, but rest assured, during next week's update, we will wrap up Jurassic June with proper introductions for all of them.
Until then, patrons can learn more about the four by checking out the script for their introduction scene over here.
And speaking of Patreon, you can also download a higher resolution version of the poster and check out the full artworks for Wu, Korut, Mayana and Red right here.
In other news, Steam has recently introduced Developer & Publisher Homepages pages which you can learn more about here.
We have joined this new trend and set up our own page, so feel free to drop by and follow us!
Speaking of Steam, in case you have missed it, the annual summer sale has just begun and SHINRAI is currently 40% off!
Check out this posting for more information.
I guess that's all for today, so please enjoy the rest of your weekend and, until next Saturday, take care! :3