Once again, I'm feeling very happy with the progress I've made this week! There's quite a bit to talk about, so let's get right into it:
First of all, we have published a new art poll on Patreon! If you support us there, you can now help us decide which character will be featured in this year's Valentine's artwork! The poll lasts until the end of the month, so be sure to cast your vote by then!
Patrons can also check out the newest addition to GENBA no Kizuna's soundtrack! The full BGM is available for download, as long as you have pledged to the 7$-tier or higher (you also get access to the full versions of all the other tracks that have been composed so far). As always, I think that Solo did a great job, so if you're curious about his latest composition, you can find it right here!
For non-patrons, we have also released a short preview of the track on Twitter and Instagram.
Still on the topic of Patreon, there is actually another new blog post available to patrons now, which features some new art assets I've been working on this week. Unfortunately, this falls into more of a spoiler category, so I don't want to share much of it publicly, yet. I can show you a little preview screenshot, though: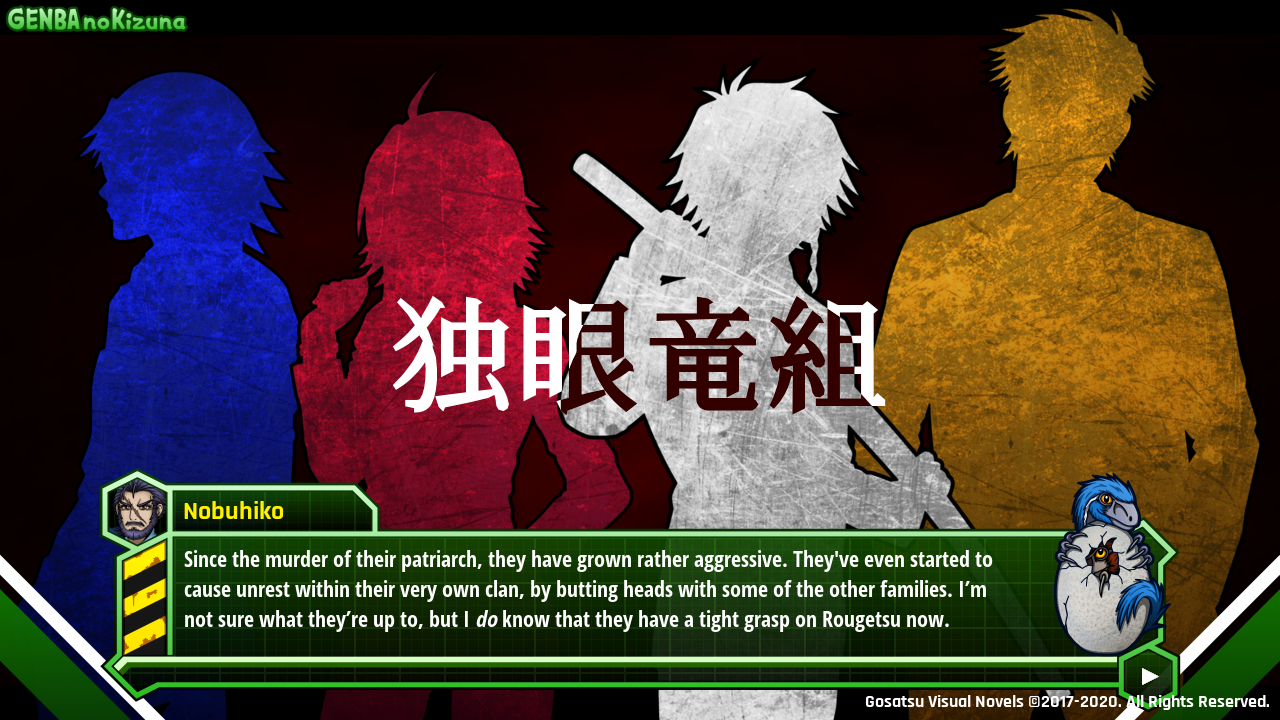 (Patrons can learn more details about these mysterious silhouettes in the post linked above!)
Moving on, I finally got a chance to talk about the merchandise with Natsu last night, so we've gathered some more ideas and have a clearer picture of what we're going to do now. I guess the next step will be to figure out how exactly to produce some of the things that we have in mind, so I'll do some research about that in the next couple of weeks.
Speaking of research, I did a lot of that as well, as I continued working on the script for GENBA. Originally, I wanted to write Dr. Kaseki's DPA entry, but then ended up writing a completely different one instead. I can't really go into much detail about this either, because it's even more spoilery, but I've finally managed to solve another of the last few, remaining uncertainties regarding the story!
In other news, Kuna has released the Kujikawa Days Memorial Book for her romance/mystery visual novel Pitch Black Serenade! It's a 130-pages digital artbook that not only includes in-game art, but even concept works and design sketches. There is also a limited version available, which will provide you with physical goods, so be sure to check that out! Especially if you're curious as to what the art for some of our future projects might look like!
That's about it for today, so it's time for me to get back to work!
As for you, please enjoy the rest of your weekend and, until next Saturday, take care! :3