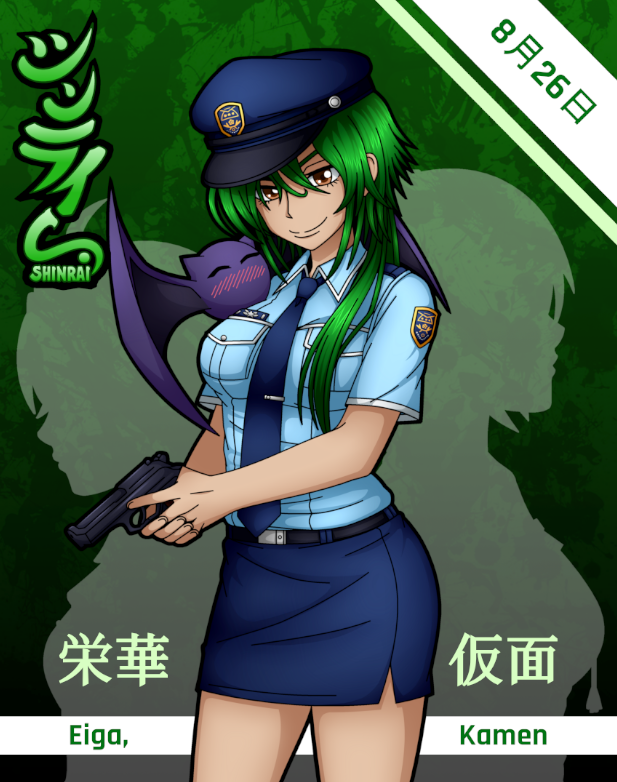 August 26 marks the day on which our first visual novel project, the murder mystery SHINRAI -Broken Beyond Despair, was released. Three years have passed ever since and back then, I was convinced that we would have already released our next project by now.
Unfortunately, we're still quite a ways away from that. GENBA no Kizuna became a much bigger, more complex and more ambitious project than what it was originally intended to be. To think that it started as a story about two people being killed in an alleyway…
At the time, dinosaurs hadn't even been part of the equation, but here we are, with a dinosaur-themed murder mystery!
Nevertheless, even if it's taking a lot longer than what I initially thought it would, I'm glad that we went down this route. Because I do think that GENBA has turned into something better and more unique now. Besides, we have made a lot of progress, especially over the past year. Progress I am rather proud of and which I have been itching to share with you. And today, that time has finally come.
The extended demo for GENBA no Kizuna is now officially out in the wild!
It is available for download through MediaFire and on our updated itch.io store page (156.01 MB):
It contains approximately 20,000 more words than our previous demo, adding quite a bit of content to it. Depending on your reading speed and how throrough you are, playtime lies somewhere between 2 – 3 hours. Outside of the addition of all new content, we have also made a whole bunch of minor changes/adjustments.
If you've played the first demo and are curious as to what those entail, here's a little overview: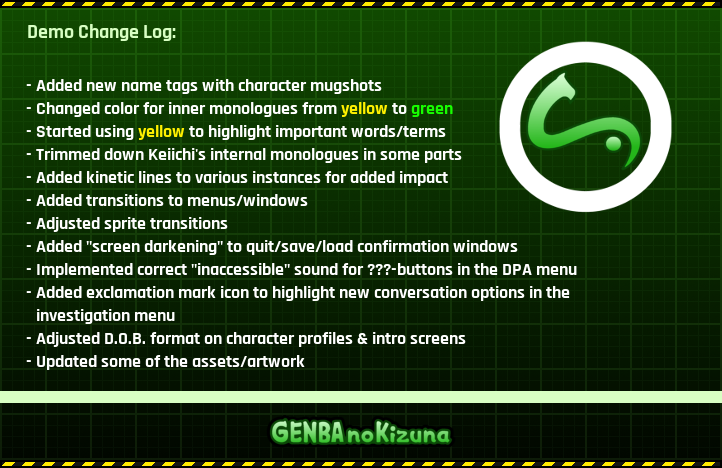 For more information on the game itself, please check out the itch.io store page, or the GENBA no Kizuna section on this website.
It's been a long, sometimes frustrating and stressful path, and we still have quite a journey ahead of us. But despite that, my love for making visual novels is as strong as ever and I cannot wait to share the final product with you (hopefully sooner rather than later). For now, however, it's already a very satisfying feeling to have made this next big step towards our ultimate goal.
In celebration of that, as well as SHINRAI's anniversary, this month's artwork (at the top of this post) features an older Kamen, dressed up in the GENBA police uniform! The artwork has been added to our gallery. As always, patrons can also download a hi-res version, along with a version of Kamen with a transparent background, right here.
(Now, who wants to be the first to be arrested by Officer Eiga? w)
We are also running a sale with SHINRAI and its soundtrack for 50% off! For more information, please refer to this post.
With all of that said, thank you so much for reading! Please have a great day (and a lot of fun if you decide to play GENBA)!
Until next Saturday, for our weekly update, take care :3