And it's time for another quick update yet again! Dang, somehow this past week just flew by…
I'm still pretty satisfied with the progress I've made in regards to GENBA no Kizuna, though, so let's take a look at it, shall we?
For the most part, I've been focusing on finally fixing up the sprites for Himatsu and Terano, as well as his big birdie Alexis. All their sprite variations are finally done and ready for proper coloring and shading by Natsu! Since she's busy working on her NaNoRenO project Helica Ascent, however, it'll be a little while longer before I can show you the finished sprites.
If you're still curious, I can share some previews, though! As a matter of fact, I already did. Over on our new Instagram account, you can get a look at the range of emotions that Himatsu will be displaying in the game. I had a lot of fun working on her sprites and I can't wait for players to finally meet her! As you can probably tell, she's going to be a pretty fun character, haha.
Now, as for Terano and Alexis, I have a little preview right here, which showcases how much our raptor trainer loves his bird of prey: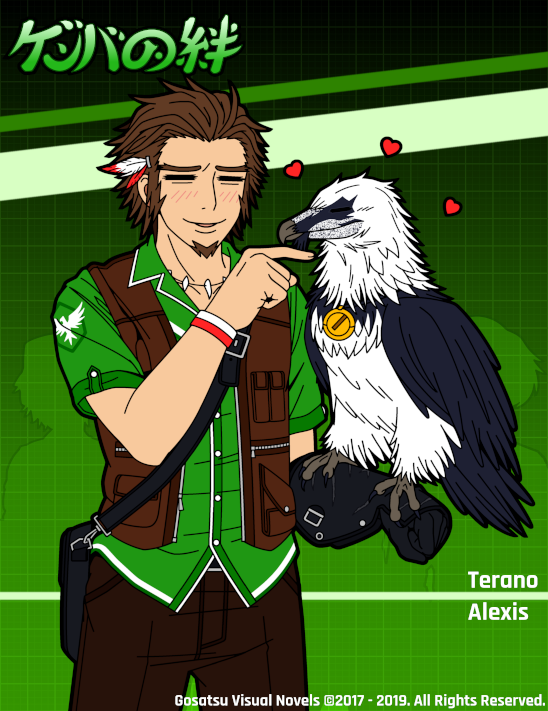 Patrons can get a look at another variation for the pair here, with a few more expression previews following soon!
Also, speaking of Patreon, March is slowly nearing its end and so is our current art poll. If you still haven't gotten your vote in, be sure to do so before the deadline hits!
I guess that's about all I have to report for this update. For the last week of the month, I'll be taking care of the variations for GENBA's first CG and continue work on the next background. And I'll be looking some more into Instagram to get that place more lively.
Please enjoy the rest of your weekend and, until next Saturday, take care! :3