First off, here's another little reminder that we have published a summary of 2019, as well as an overview of our plans for 2020, so if you are curious about the development progress of GENBA no Kizuna and our goals for the next months, be sure to check them out!
Now, with this out of the way, let's jump into our first proper progress update of 2020!
I'm pretty satisfied with the progress I've made during this first third of the month. In some regards, I was even a bit faster than I anticipated, which is always a good thing (and should happen more often). I have, for example, finished drawing Dr. Kaseki and Ryuunosuke for another little CG. Patrons can check out a preview of it, but I also have a little something to share right here: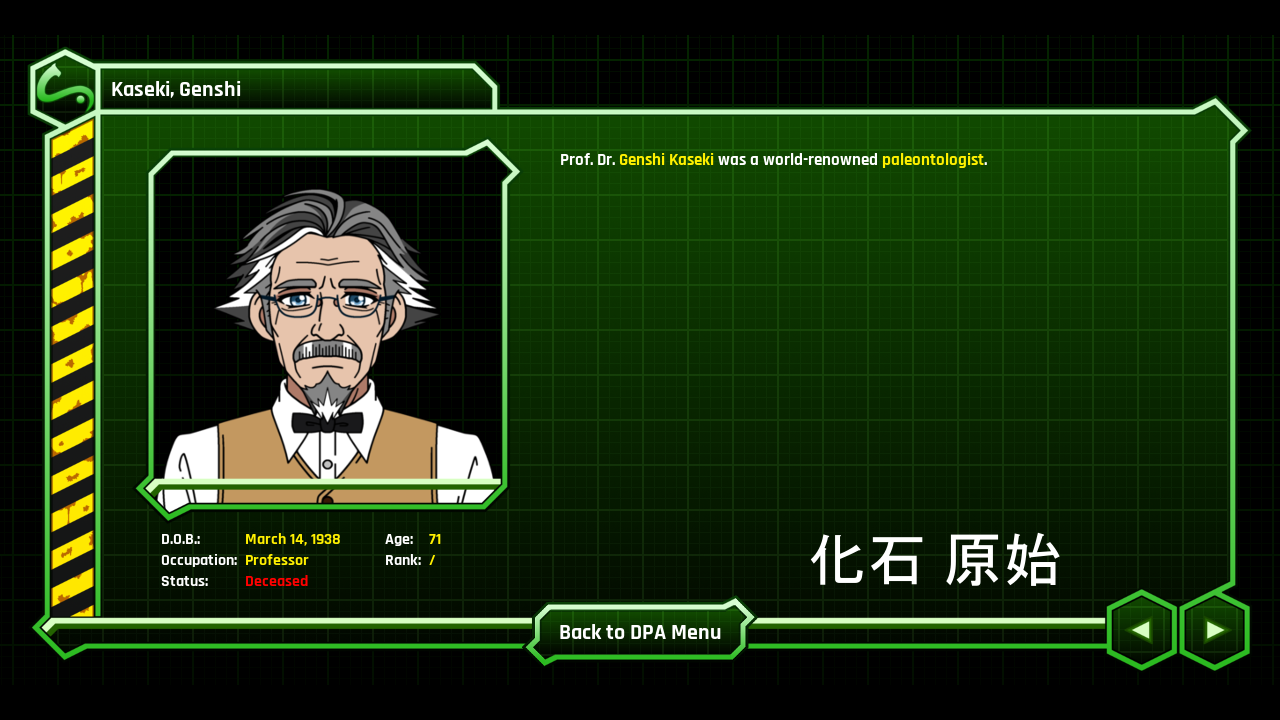 (Patrons can have a look at the photo CG, featuring the professor along with his grandson)
As you can clearly see, there isn't much information on the professor yet, so filling out his DPA profile will be one of my next tasks. He also still needs to be properly colored and shaded by Natsu and I might adjust the year he was born in (and consequently his age). I will worry about those details during the next couple of days.
Moving on, we finally have some soundtrack news again! Solo has finished a brand new track for GENBA, which I could theoretically share already. I will hold off on that for a few more days, however, in order to spread out the content a bit more, instead of posting everything in a single day, haha. So patrons should keep an eye out, as they will be able to listen to the full track on Wednesday, while a short preview will be posted publicly on Twitter and Instagram.
(On the topic of social media, I'd also like to bring some attention to our Discord server again. I've neglected this far too long and really want to start promoting it more. If you want to leave us quick feedback on our games, ask some questions, or generally chat a little, that's the best place to do so!)
So, what else is new? Well, during this past week, I have also put some serious thought into the whole merchandise aspect and discussed it with Kuna a little, brainstorming some ideas. I will have to talk it over with Natsu as well, so there isn't too much I can unveil yet, but next month, we will hopefully be able to introduce some first GENBA and SHINRAI merch!
Anyway, what's next then?
Well, outside of thinking some more about the merch and working on the professor's DPA entry, I will focus a bit more on script work now. I have already given Solo some details on the next music piece as well, so there might be another new track popping up in the very near future! I guess it's also time for another art poll, so patrons should definitely keep their eyes peeled for that as well!
That about wraps it up for today, so please enjoy the rest of your weekend and, until next Saturday, take care! :3