If you have read last week's blog post, you already know that a November release for our GENBA no Kizuna demo didn't quite work out. We nevertheless made lots of progress and certainly will continue working on it throughout December as well.
I'm not entirely sure when the demo will be publicly released, but patrons won't need to wait too much longer to get a first look at the actual game. If you support us on Patreon, you can even read the entire script of the prologue right now!
I've also posted the first BG image on Twitter, so if you're curious about what the Kaseki Residence looks like, check out this tweet!
Getting back to the demo though, we won't be in too much of a "demo release rush" anymore. It's December after all and I'd like to shift focus back to SHINRAI again, now that I'm really getting into the mood for it!
As you might recall, its sequel Withering Without Hope takes place on December 23. GENBA on the other hand is set during the height of summer, so I'm naturally more in the mood for the wintery project now, haha. I even began writing for it again, as mentioned in last week's posting.
This is frankly something I've been looking forward to for a long while now. I've been itching to get back to SHINRAI, but trying to release a GENBA demo before December meant that I had to focus almost entirely on that over the past few months. And while I'd still like to release that demo ASAP, I also really want to enjoy this month by working more on WWH again.
So yeah, that's what I'll be doing. GENBA work will continue, but at a slower pace, and focus will shift over to SHINRAI again. Patrons can certainly look forward to seeing some early character sketches as well as some script glimpses for WWH. But of course, I'm also planning to post something for everyone to see.
December is certainly going to be a busy month. Now that the polls for the Christmas and New Year's artworks have ended, I'll be starting work on those very soon, too. And speaking of our monthly artworks… let's wrap this posting up by taking a look at the one Natsu drew for November! As voted by our patrons, here's a mischievous "Mika Setting A Trap":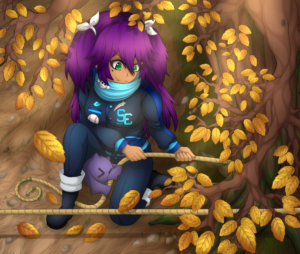 (Patrons can also download a version of higher resolution via the post on Patreon!)
Well, that's it for today! Please look forward to some more SHINRAI news! Until next Saturday, take care! :3